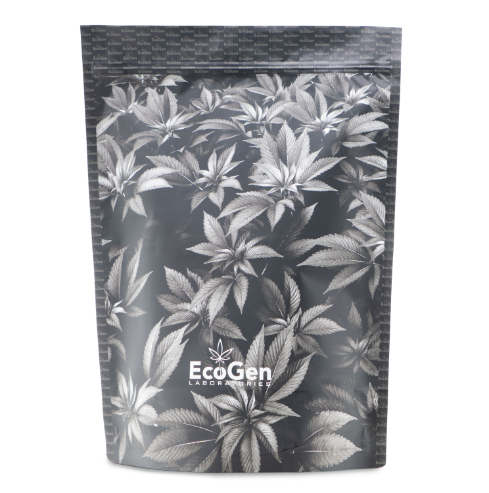 Custom One Pound Mylar Bags for Marijuana Distribution
Our custom one pound mylar cannabis bags allow cannabis wholesalers to store up to 1 pound (16 ounces) of cannabis flower in a stylish and effective manner. Our custom mylar bags are smell proof, can be ordered with child resistant packaging features, and are a great alternative to glass jars or pop top bottles. 
As the cannabis market becomes more crowded, your product needs to stand out on the shelves. Fortunately, our mylar smell proof bags will showcase your cannabis product in style. They can be custom ordered in opaque or clear packaging, and will protect your product from light, air, and other contaminants. Your customers deserve the best, and our smell proof mylar bags will ensure that they get their hands on just that. Shop our selection today!
Review Our Barrier Packaging Printed Process
Review our packaging creation process below to become familiar with how we create containers and mylar barrier bags for your flower and vaporizers. 

Get an Instant Quote
Use our Instant Quote Generator to get yours.

Select Size + Configuration
Choose how many bags you Pick the ideal size stand uppouch for your product.

Approve Your Proofs
Check your digital proofs to make sure everything looks great.

We Print Your Bags
We offer Digital, Plate, and Cylinder printing options to put your brand front and center on your stand up pouches.

Enjoy Your Bags
We offer a selection of finishing laminations and varnishes for your custom printed pouches.
Cannabis Pound Bags - Frequently Asked Questions
See below for some questions we're frequently asked by other wholesale cannabis distributors. 
Does my business need 1 pound mylar bags for packaging weed?
The cannabis market is exploding, and the market is getting more and more competitive each year. Weed sitting in a turkey bag won't cut it anymore — you need high-quality packaging and branding to keep your margins as high as possible. Plus, 1 pound mylar bags will keep your cannabis fresher for longer, with the highest barrier possible. Don't your customers deserve the very best? 
Where should I buy 1 lb mylar bags wholesale?
C4M is a trusted wholesale distributor of mylar bags, including 1 lb mylar bags for the cannabis industry. Reach out to us today to view our inventory and get your order started.
Can I print the entire bag?
Yes. We leave the design up to you, so you can print the entire bag, part of it, or you can purchase un-branded bags if you're running low on inventory and need mylar bags ASAP. 
Our minimum order quantity is 1,000 – 5,000 units.
Do you offer plate and digital printing on 1 pound weed bags?
Yes, we offer both. Plate printing allows you to really step up the marketing, with holographic effects, spot gloss, spot matte, and soft touch coatings. Contact us today to explore your plate printing options. 
What size should a 1 pound weed bag be?
Everything we do is made to order, but a common size is a 14×17.5×6 stand up pouch. But, as mentioned, the design and sizing aspects are in your hands and we can work with you to get the perfect bag made for your cannabis products. 
Will these custom 1 pound weed bags keep the cannabis fresh longer?
Yes! These aren't your old-school turkey bag material mylar bags. We use a state-of-the-art material called CareFoil, which is an exceptionally good bag material. It'll keep the THC from breaking down, improving the flavor and extending the shelf life of your cannabis products.
Are your bags child resistant?
Yes, absolutely. From bags that are pre-sealed and filled at the bottom to tear-resistant packaging with a locking zipper, our packaging specialists will get you the perfect bag that balances child proof protection, cost, and safety. Combine that with your branded artwork and your cannabis products will be hard to resist!