Glossy Weed Baggies | Glossy Bags for Cannabis
As the cannabis space becomes more crowded with competition, it's more important than ever for your cannabis product to stand out in a dispensary or online. Apart from providing a fantastic product at a reasonable price, one way to stand out is with a high-quality weed bag. Our custom mylar bags are the perfect way to showcase your product in a stylish way, while protecting the cannabis within from the elements.
Here's a quick breakdown of the various benefits of our custom cannabis bags:
Containers 4 Marijuana's custom bags for cannabis allow cannabis wholesalers to package cannabis flower, edibles, pre-rolls, and other marijuana products in a stylish and effective manner. They're smell-proof, child-resistant, and are a great alternative to bulky glass jars or pop top bottles.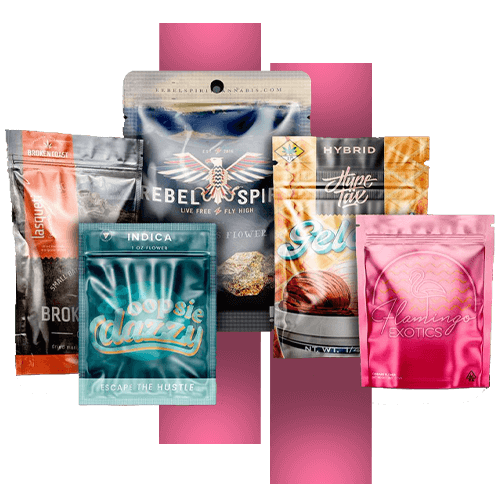 It Really Is All About The Packaging
Due to restrictions within the cannabis industry, many of which don't allow customers to handle or smell weed products before purchasing, getting your product sold really does come down to the packaging or container. And, if the sales experience starts with a customer selecting your product over others in the display case, you already know how important packaging is to getting your weed sold.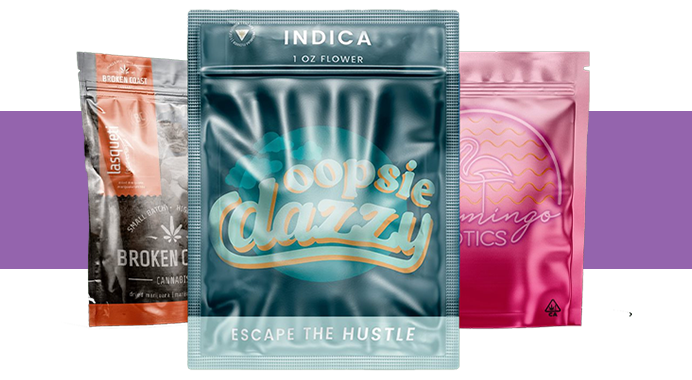 That's where we come in! We're committed to providing high-quality custom glossy bags that will give your brand an edge without breaking your budget. Our custom glossy bags can be fully customized to add your logo, brand colors, imagery, or anything else you want!
As a California-based company, the first state to legalize cannabis for medical use, we know a thing or two about cannabis packaging! We've worked with MANY cannabis companies throughout the years and understand the complexities of cannabis bags and the regulations that surround weed products. 
Features To Consider For Your Glossy Cannabis Bags
When it comes to customizing and designing your cannabis bags, the sky's the limit! Our helpful and professional design team will walk you through the entire customization process, and will work with you to make sure your cannabis bags check all the boxes. Here are just a few of the customizable features you may want to consider for your glossy weed bags.
Smell-Proof Packaging
In the cannabis industry, smell-proof packaging isn't a feature to consider - it's essential! Our smell-proof glossy mylar packaging will keep the scent of your product inside the package where it belongs.


Viewing Window
Why not entice your customer by giving them a view at the details inside? That's precisely what a clear viewing window is intended to do. This is especially important for brightly colored edibles or large flower buds.


Amazing Graphics
Let your logo and graphics shine through to your customer. Glossy weed pouches help colors show through and are easy to see. With the amount of matte weed bags out there, glossy mylar bags are starting to really stand out from the competition.
Holographic Elements
If a glossy weed baggy isn't enough, up the ante by incorporating holographic elements to your bag. We can make your logo holographic, or make the entire back of the bag holographic. It's up to you!
Resealability
Unlike the snack food industry, where customers eat an entire bag of chips at once, nobody consumes an entire bag of cannabis at once. Therefore, a resealable bag is essential in the cannabis industry.
The Custom Printed Process for Mylar Bags
As you design and produce your glossy cannabis packaging, it's important to find a packaging partner that offers all of the above — and then some! When you partner with a flexible packaging company that specializes in cannabis packaging and has low order minimums, short lead times, and stellar customer service, you can rest assured that your weed packaging is in good hands. Plus, we have the equipment necessary to produce even large order quantities in a short amount of time.
Call us today or request a quote — we'll help you create the glossy weed packaging bags that are guaranteed to help your weed product shine.
How to Design Your Child Resistant Mylar Bags
Now that you know more about our cannabis bags and the features you should consider, you're probably wondering what the design process is like. Well, it's easy! Simply partner with a glossy weed packaging design company (like us!) and we'll walk you through the process.
Put simply, this is what you can expect:
1. Get a quick online quote
2. Select your size and configuration
3. Approve your proofs
4. We'll print your materials
5. We ship them off and you enjoy your new bags!
We sell commercial grade FDA approved stand up pouches and barrier packaging. In addition, we have a collection of stock size packaging or customized options to choose from, all to fit your unique needs! Whether you are just starting a new project or considering switching suppliers, talk with us to see how your marijuana product can benefit from our quality packaging.

Get a Quick
Online Quote
Every stand up pouch bag we print goes through a very specific set of steps, from choosing your bag size, material and configurations, to proofing, to final delivery. With more than 12 years experience, we will walk you through every step of the process to ensure your stand up pouches will fly off the shelf.

Select Your Size
and Configuration
Pick the ideal size stand up pouch for your product. All the stand up pouches we sell can be sized to your specifications, including die-cut windows, or other unique configurations, such as a zipper top, or hang hole. Generally, if it is possible to make with flexible packaging material, then we can supply you a stand up pouch that makes your products stand out from the competition.

Approve Your
Proof
You don't have to bring press ready art. There are many technical considerations when printing barrier films, and we do all that work for you. We'll take your original art files and set them up for printing to ensure you get the best quality printing, and develop digital art proofs that you can revise. We focus on providing stand up pouches and barrier packaging that meets your budget.

We'll Print
Your Materials
We offer Digital, Plate, and Cylinder printing options to put your brand front and center on your stand up pouches. Once the packaging material rolls are cut and treated, they are ready for printing and any lamination options you chose (matte, gloss etc).

Enjoy Your Custom
Weed Bags
When the material is imprinted with your artwork, it is then made into your bag. We offer a selection of finishing laminations and varnishes for your custom printed pouches, depending on your preference and items you're packaging.
The Custom Printed Bag Process
Child-resistant packaging is another absolute must in the cannabis industry. Not only does it ensure that you meet any cannabis packaging regulations in your state, but it ensures that your bags are resistant to a child and they are kept away from a product that could potentially harm them.
We're committed to creating child-resistant packaging for cannabis products, and incorporate child-proof elements in all our bags, including glossy cannabis bags. We're well-versed in the ins and outs of child-proof packaging and are happy to provide high-quality child proof baggies with child-resistant properties. Your bag will go through multiple reviews so you can rest assured it'll reflect your brand perfectly.
Please Note: Although we do our best to provide child-resistant cannabis packaging that's compliant with certain laws and regulations, we're not lawyers and cannot promise full compliance with a mylar bag, particularly if your product contains THC. 
Please be sure to check the legal regulatory requirements for packaging in your state, and share with us those requirements. It doesn't matter if you need glossy weed packaging for a vape, flower, or pre rolls, we specialize in making marijuana packaging to meet your exact specifications. You can count on us! 
Ready To Get Started?
We Are Here to Help